Samway was founded on 1989, Samway is now the leading company in design and manufacture crimping machine from 1/4'' to 25'' with up to 5000 ton pressing force.
Take the opportunity to visit us if you are free or when you are in China.
We are very close to Shanghai PUDONG international airport, we will happy to arrange the pickup from you in the airport and also arrange the hotels in our city, please contact us if you have any questions.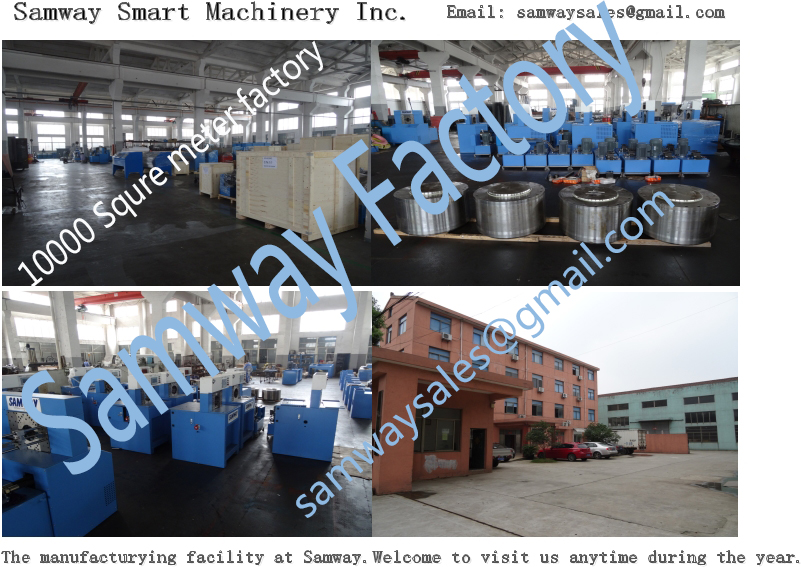 Offical website of Samway is http://www.samway.us You can find more Samway products in this website.
www.samwayonline.com is a Samway Online Direct Sales website for most of clients, you can select the machine according to your requirments, fo more detailed information of the machine or your request, please contact Samway Sales by, one of our professional technican will answer your questions and give you a solloution by providing you a machine or a custmized machine.
Samway crimping machines are widely used in these following areas: hydraulic machinery, hydraulic hose, petrol hose, oecan hose, steel pipe end forming, steel pipe swaging, Power industry Insulators, Arresters, Concrete rebar for construction, like Peikko, Halfen, etc. Insulators and Arresters of Pisterer and SIEMENS. Samway provide complete solutions for hose assembly industry from small high pressure pipe and large oil transfer pipe underground or floating on the sea or under sea for large drilling center in sea.
Samway main manufacturing Hose Crimping machine, Hose Skiving machine, Hose cutting machine, Hose testing bench, Hose pulse test machine, hose cleaning machine, fitting inserter, fitting or hose marking machine, full automatic hose reel cutoff line with servo aided cutting, no worker required, it will cut to the length and number of cuts you required.
In 2009, Samway introduced the CoilWork Steel Cut to length line and Slitting Line to the industry, now more than 150 companies and 289 lines has been delivered for the production of coil steel worldwide. CoilWork Produce from the 0.1-25mm thickness and 2500mm width of the coil for most of metal: Stainless Steel, Carbon Steel, Copper, Alumium, Zink plated steel, etc. Please feel free to contact CoilWork for the sollutions of your Steel Coil, we provide not only the machine, but also the techniques for the quality control process for the coil process.
Samway export to more than 150 countries and areas in the world, main customers are SIEMENS, RYCO, CATERPILAR USA, PHISTER GERMANY, PIRTECH, GATES AFRICA, YOKLOHOMA Japan and Taiwan etc. We build full lines of Compatible Finnpower models: P32, P51, P60, FP120, FP145, FP165,FP175, FP185 (12'') FP series come with standard precision digital control for easy and acurate crimping.
We also build full lines of Compatible Techmalflex models: PE28, PE38,PE58, PES500 etc. We offer a wide range of compatible die sets for main brands in the world: Techmalflex, Finnpower, Customs Crimp, O+P, Uniflex.
Welcome to visit our website: www.smarthydraulics.com or visit our company and manufacturing center anytime during the year. Or you may email us samwayonline@outlook.com any questions or expectations from Samway for your unique requirements, we are ready for help, we will respond in 24 hours of your reply. Please do feel free to contact us if you have any questions.
Feel free to visit Samway manufacturing plant anytime you are available, Samway not only produce products, but also export by Samway as well.
Sam Shen General Sales Manager
Samway international trade co.,ltd Rm611,Jia Fu Building,No.97 Ren Min Road, chongan district,wuxi,214001 china Tel:86 510 83788458 Fax:86 510 81083116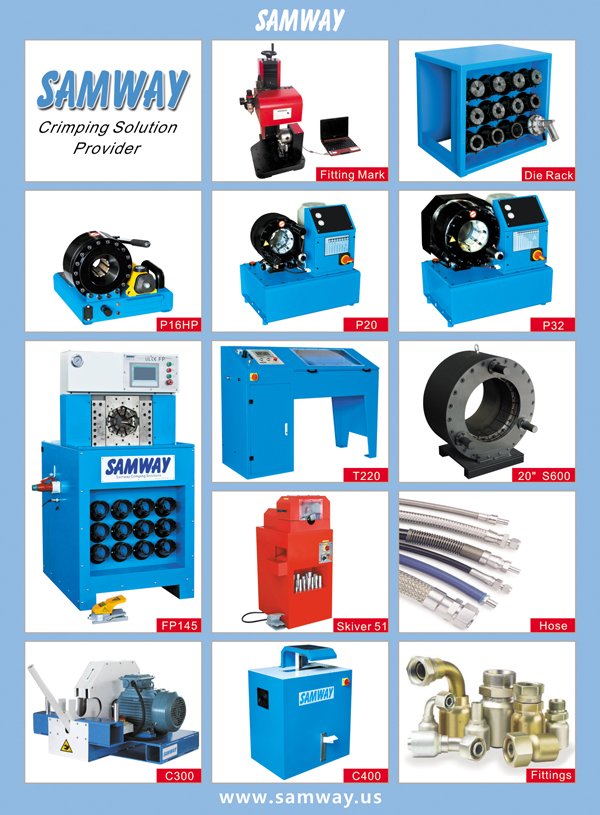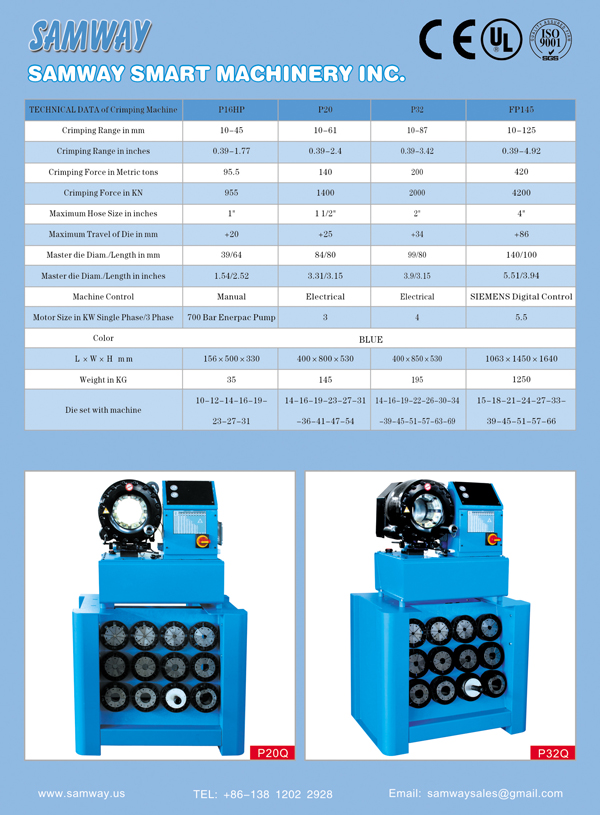 The characters you copied from the image are incorrect. Please try again.